10 Aug 2017 -
LaLa Land Comfy Wear, your happy place & backbends
The yoga clothing brand that is founded to find your happy place. That is LaLa Land comfy Wear. Backbends brings me to my happy place. Just like this yoga wear.
LaLa Land Comfy Wear: super comfy designer yoga clothing for hot (bikram) yoga
LaLa Land Comfy Wear is one of the brands that we offer since the launch of YogaHabits in 2015. Why? Because the fabrics are super comfy, the designs are stylish & feminine, the Brazilian fabric is wicking away moisture quickly and are perfect to enjoy many yoga sessions. And a yoga outfit that lasts long is also a form of durability. Designed for hot (bikram) yoga, but also great for less warm styles.
Happy place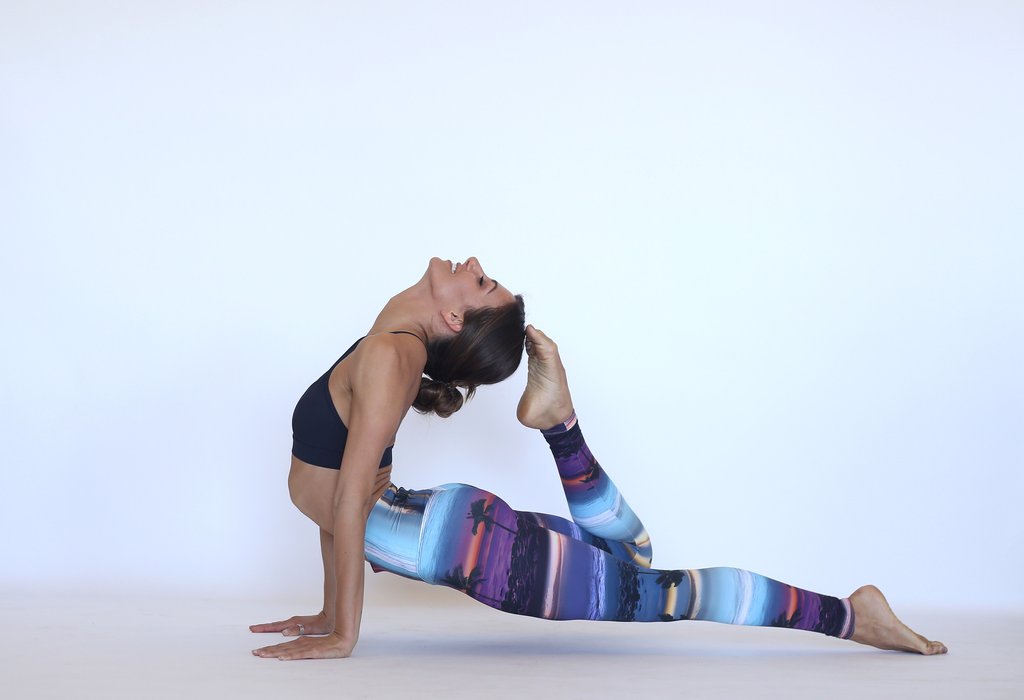 A whole brand that is designed around your happy place… that sounds like fun right? The designer of LaLa Land describes this as follows:
"Imagine the happiest moment you've ever experienced in your life. That moment when every atom in your body is glowing, connected fully at play with life. Your being is one mind, body, and spirit. There is no separation and everything works!
In this place, life itself occurs as it is... a beautiful and wonderful gift. Time does not exist, everything is possible, magic is real and miracles happen! The unexpected and unpredictable are commonplace, there is total fulfillment, fun and love is everywhere! This is LaLa Land "My Happy Place."
I find LaLa Land most often in my yoga practice. It is there that I experience my bliss, my daily inspiration, and where I renew each day my lust for life! It is there where I find my heart, my soul, and my moon. It is there where I push myself and stretch my soul. It is this expression of what LaLa Land is for me, that I put into our Comfy yoga clothing and activewear.
Everybody has their LaLa Land, what do you call it?
LaLa Land is committed to quality, service, and design.  And most of all to you, your well- being, satisfaction, and LOVE OF LIFE!"
Backbends as my personal LaLa Land happy place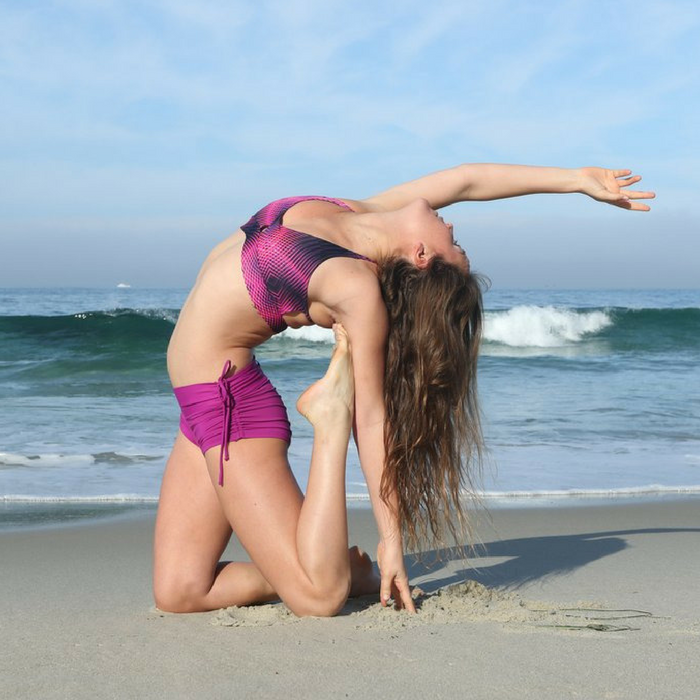 What is your favorite happy place? Mine appears during backbends. It feels so good to open my heart that way and it always gives me a boost of energy. I even believe that my love for yoga started while doing backbends.
Maybe you have (still) a different experience with backbends (and you are not the only one for sure), but that could change. Therefore it helps to focus on the benefits of backbends. For example by using one of the following approaches.
Physically, one could focus on creating more space & bending in the upper spine. The lower back already bends easily because of the natural curve in the spine. The upper spine usually needs some more practice. To receive the therapeutic benefits, one should aim at creating an equal distribution over the vertebrae. And where you focus on grows. So if you concentrate on what happens in the upper spine, you will feel better what happens there and how you could create more space between those vertebrae over time. It helps to focus on lifting your chest bone up on each inhale. What also helps me is connecting with the space behind my heart and creating more space in that area.
Energetically, backbends correspond with releasing fear. Fear for the unknown. In other words... the future. Subsequently, it is possible that you feel all kinds of emotions after backbends. This is just showing that there is energy in motion and the aimed therapeutic process is happening. You could release blockades that were stuck in your body this way (and thereby creating space for all kinds of beautiful possibilities in your life).
Make sure you are breathing I and out by the nose with a relax face -especially the forehead in backbends- and don't go deeper in the posture that when you are able to maintain this. Hereby you signal the nervous system that everything is okay, which helps to create more space between the vertebrae.
Since there also happens a lot with the shoulder blades in backbends, it helps if your yoga bra keeps them free. And therefore the yoga tops by LaLa Land also great. My personal favorite is the LaLa Top, but also the Nikki Top and the Double Face Tube Top are amazing. They are available in lots of colors and prints. To complete your outfit, combine your favorite bra style with a yoga shorts of legging by LaLa Land as well, to stay with this super comfy fabric.
Enjoy your Happy Place Habits© today!
Aimée Kuntz
Never miss anything by YogaHabits?
Do you want to implement more yoga lifestyle habits, step by step? To become more relax and create & enjoy your ideal life? To live according to your intention? It is our goal to help you with this. And of course stay updated about our new yoga clothing collection. Never again miss any of our blogs by SIGNING UP FOR OUR NEWSLETTER.