No matter how relaxed those yogis look, once you practiced yoga you know that you won't be able to keep on balancing if you relax all your muscles. On the contrary, it requires quite a lot of detailed control about your body. And yet ... breakthroughs in yoga postures often occur when you learn what to relax.
Work smart instead of always working harder
Of course, tightening certain muscles is very important in yoga postures. There is a reason why yoga teachers usually give specific instructions that help you to do that. The tightening of muscles could help to move resistance within your body to be able to create more space in another part of your body. For example, it helps in many yoga postures to activate your leg muscles to create more length and space around your spine. Read more about using resistance in THIS yoga blog.
At the same time, a certain amount of relaxation is also very helpful. Because relaxation also creates space. Only in a different way. So the trick is to tighten or relax where it helps you the most.
What can you relax without losing your foundation in the yoga posture? Could you relax your face (such as jaw, forehead and throat) more to relax your nervous system more? Could you relax your neck more? Where could you let gravity work for you?
Also by being really precise in your movements, you prevent energy being 'wasted'. Working smart instead of always working harder and harder. What could you do to be more precise in your alignment/technique? By feeling from the inside out how your joints want to move; in which direction they encounter less resistance without compensating elsewhere.
Giving and receiving are one
If you continue to focus on maximizing therapeutic benefits, it will also become clearer where the balance is between action and relaxation in yoga postures at that specific day. This is where giving and receiving become one.
Wherever you are in your practice, this is where everything seems to come together. Even though you are providing effort, you also feel relaxed, grounded and are becoming one with your version of the yoga posture. If one of the following things is not the case in your practice, that gives you an indication that you lost the #RelaxIntoAction principle. I would then advise you to opt for some less depth until you can keep those things intact.
#RelaxIntoAction in your yoga poses with:
A slow and relaxed breath. Your heartbeat might go up.
A relaxed face: if you keep a smile on your face, your forehead and jaw, where some important energy lines end up, you will almost automatically feel relaxed. Keeping the tip of your tongue (relaxed) against your teeth may also help.
Be aware of what is happening in your body; how everything cooperates and supports each other.
Instead of focusing at forming a specific shape, it's often more helpful to focus at what you could do in the posture to create more therapeutic benefits. Learn how the yoga posture can support your needs. Study every step you take in the posture and how each part can contribute to the therapeutic benefits. Let the yoga pose work for
Practice the posture as if you are the posture. Say a yes to this posture. This doesn't have to be the maximum expression of the yoga posture. You could also practice a set-up as if you are that set-up.
Do you want to read more about #RelaxIntoAction?
Do you want to read more about Relax Into Action? About how you can feel energized? That is possible since I wrote a book about it! And at this moment you could even get the e-book for free by signing up for the YogaHabits newsletter. You will than receive an e-book with 40 pages of yoga lifestyle tip to be fully energized.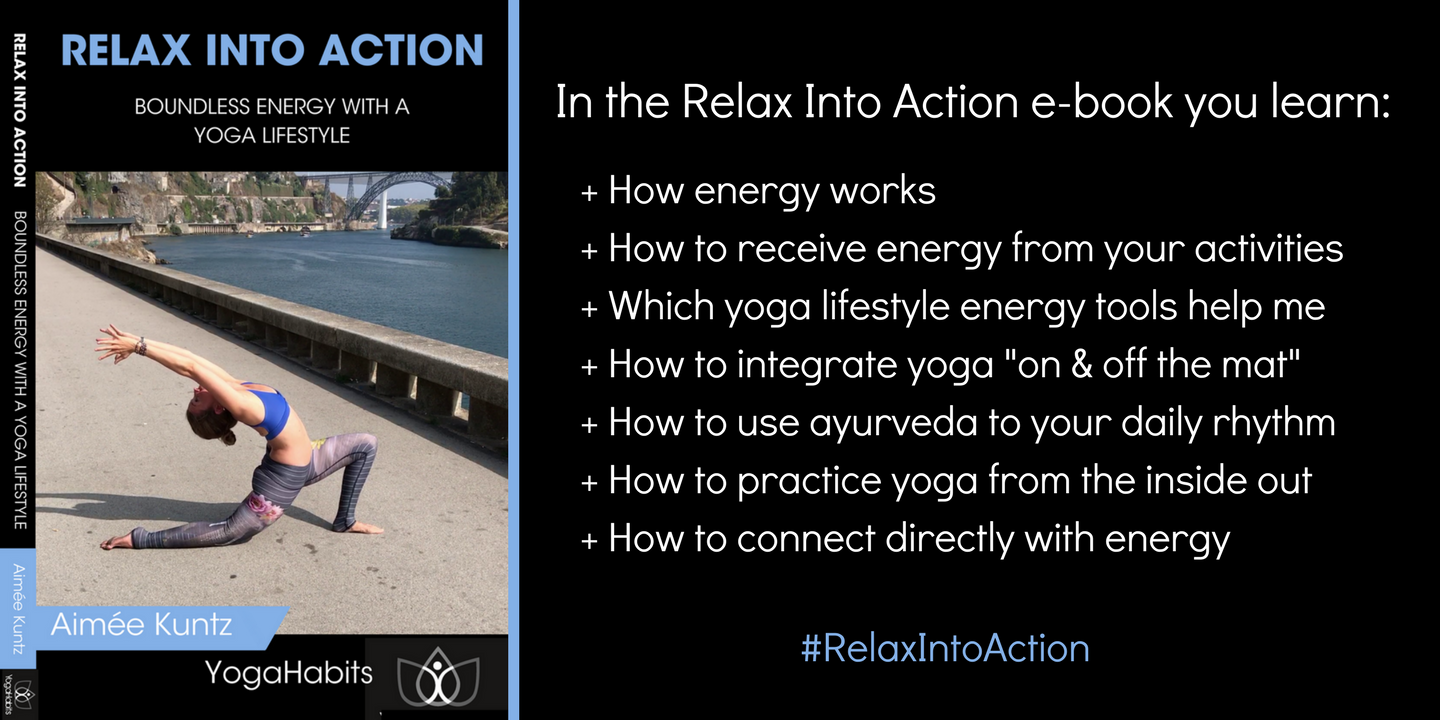 Enjoy your Habits© today with love and light!
Aimée Kuntz
Never again miss anything from our yoga blog?
Do you want to implement more yoga lifestyle habits, step by step? To become more relax and create & enjoy your ideal life by heart? To live according to your intention? Your pursuit of happiness? It is our goal to help you with this. 
SIGN UP FOR OUR NEWSLETTER and never again miss any of our yoga blogs again.