Patty Jongemaets has a special place in my heart. She has coached me for a long time and helped me very well. Besides being a very good coach, she has also created the yoga style 'virtue yoga'. For YogaHabits I was able to interview Patty about virtue yoga and about how courage is integrated in yoga.
What does virtue yoga mean to you?
For me, virtue yoga means bringing more depth to your yoga.
In fact, the whole yoga philosophy is full of virtues. But it is often very difficult to apply. So, often we only do the yoga postures and the philosophy is dealt with very little. And that while I think that the philosophy behind yoga is actually the most powerful. Of course in combination with the asanas, pranayama and meditations.
I think the combination is very important. And with virtue yoga you do that in a very lightjoyful way with a lot of depth by putting a virtue in the center. People become aware, without the heaviness. Without the difficulty. And yet directly applicable in your daily life. In a meditation I once received  "it is the language of the heart and the way of the soul".
On the one hand, virtues are a language. We speak of courage, understanding and compassion. But it touches your soul. Making you live your life as it is meant to be.
For this interview I have drawn a virtue card: courage. Can you give an example of how courage is integrated in the yoga philosophy?
For example, Iyengar says that courage is one of the essences of everything. Others like Deepak Chopra and Roy Martina also indicate this. Because you do not get any further without courage. Iyengar explains that you need courage to let go of your ego. Like when all kinds of thoughts come up when you start meditating. Then the ego comes in between. To look at that and let it go, you need courage.
In addition to meditation, courage also appears in the yoga postures. A good yoga master can even read your whole body; (s)he can see exactly where your things are. Like you can see from someone's backbends how courageous they are. It works also visa versa, because from practicing backbends you also become more courageous.
And you really need courage. Even to start with yoga. For example, someone who had my flyer for two years before she came to my yoga class, whereby in the meantime she regularly thought 'yes, I'm going', but then I didn't go. Or because people around them say that yoga is woolly. Even though there are nowadays many more people who practice yoga and yoga has become much more widely known, you are still a pioneer when you practice yoga. Because you do something different than most people do. And therefore you need courage.
And if you've been to yoga before, you need courage to keep on practicing. For example, how often does it occur that when it is time to go to the yoga class it rains and/or that you are actually just sitting comfortable on the couch. Then you can easily be stopped by that 'little me': the ego. If you then use your 'big I' to go, you will pass the ego. And that requires a bit of courage. In yoga, courage is very important. To change something consciously. Courage is always the first step that helps you to practice yoga.
How can you integrate courage in a virtue yoga class?
In a virtue yoga class we always first read the virtue card and look at the sentences that touch us.
Recommendation: read the virtue card now yourself and see which sentence are touching you.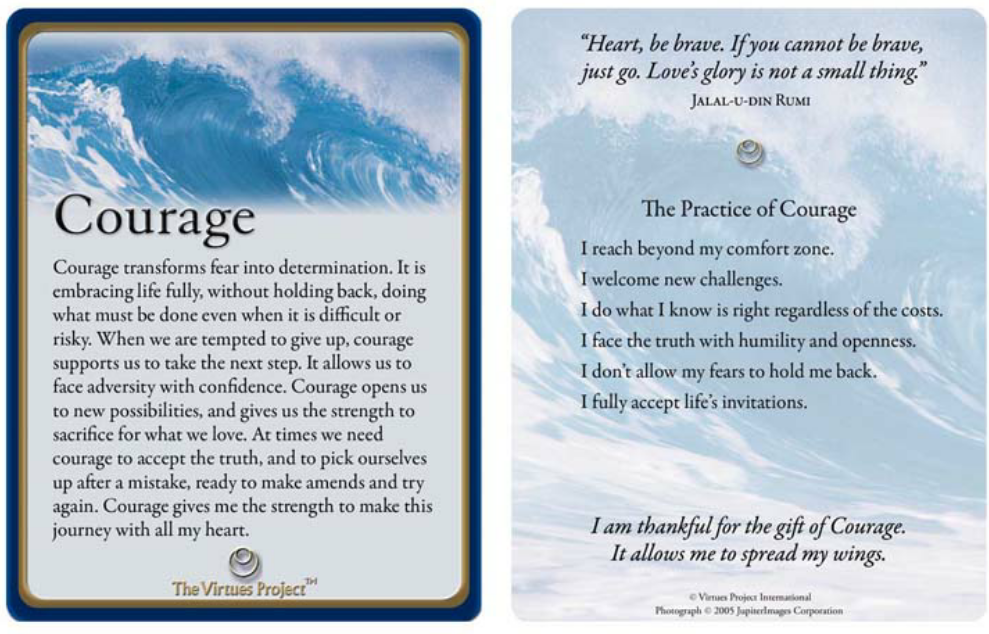 Credit: The Virtues Project™ Reflection Cards
For example, "courage transforms fear into determination". Sometimes, for example, people are afraid of a yoga posture. Like in inversions. Or for their neck, etc. And then you also need a bit of courage to practice the yoga posture anyway. You will not get there without that courage. Then it turns into that determination, in an "I go for it". This is also what I remind them of in the virtue yoga class.
We then set an intention, since there are very often small fears in people. For example to fall out of the dancer. If you then set that intention "I just go for it", you use that determination that is so beautiful expressed on the card. In this way, I also integrate the virtue cards into the yoga class.
Another sentence of the card that is often quoted is "When we are tempted to give up, courage supports us to take the next step". Because such a sentence is mentioned by many people, it is also helpful to make an exercise with regard to that. An exercise in which you initially think "now I give up" but then you remind yourself of the affirmation and your intention. For example, if we do the frog pose from kundalini yoga 26 times. That is, of course, very intense. And if you then thinking halfway "oh I give", you can then use courage to continue anyway.
On the other hand, also be brave enough to indicate your boundaries when something hurts. Because you also need courage to get out of the yoga pose sooner. So, you can use an intension like "I use courage and determination to continue within my own boundaries."
I also always indicate if someone stops earlier that it is okay. That you can say to yourself "It's okay. I have done as much as I could. I have been courageous, but it is absolutely courageous to indicate my own boundaries. Now I'm going out of the yoga posture, since I've done as much as I really could. "
What does a virtuous yoga class around courage look like?
In my book "Virtue Yoga" I have described yoga classes around various virtues, including one about courage. In the yoga class, the yoga poses come with affirmations that empower courage.
Like the frog pose from kundalini yoga. And the strengthening breath. Before that we first do a few grounding exercises. To make you feel grounded: that helps to feel safe and gives stability. And from that safety and stability you can go to more difficult yoga postures. Actually, it is just like in daily life. Because if you do not feel confident or stable, it is hard to be courageous.
From being grounded, we will then continue. That strengthening breath works good with that. A nice exercise to practice courage is to go directly from a forward bend to the to the plow pose while you take your arms with you. Such a yoga pose is not scary for your body, but your mind thinks it is. Before we do such an exercise, I say a sentence like "I dare to see myself as a courageous person and to behave courageous." Then I ask them to integrate that sentence within them. So you take a sentence that makes it powerful and then you do the yoga pose. And so you practice all kinds of yoga poses that reinforce courage.
What is also a nice posture is the lotus flower. By thinking about the lotus flower, you connect yourself to its energy. A lotus flower grows from the mud in deep waters and needs to be incredulous courage to grow all the way up. To shake off all the mud. And then you practice the lotus flower pose with a sideward stretch of the arms combined with the affirmation "I increase my self-worth, I am worth it". By combining affirmations and yoga postures, you strengthen the virtues within yourself.
Then of course come the backbends, because they help you to become more courageous. And the warriors; they stand for bravery. So each time I look which yoga postures reinforce a certain virtue, so that you work on a mental, physical and emotional level. To integrate heart, head and soul into the body.
Thereby you create that the virtue also keeps on working even when they are at home again. I often hear that the virtue affected them during the week; that they have done things differently because they kept the virtue in mind. So the virtue did truly help them. Or that they have been brave enough to let go of their egos and start an open conversation with someone. Because that's also where courage is about. Where you let go of the ego.
Structure virtue yoga class courage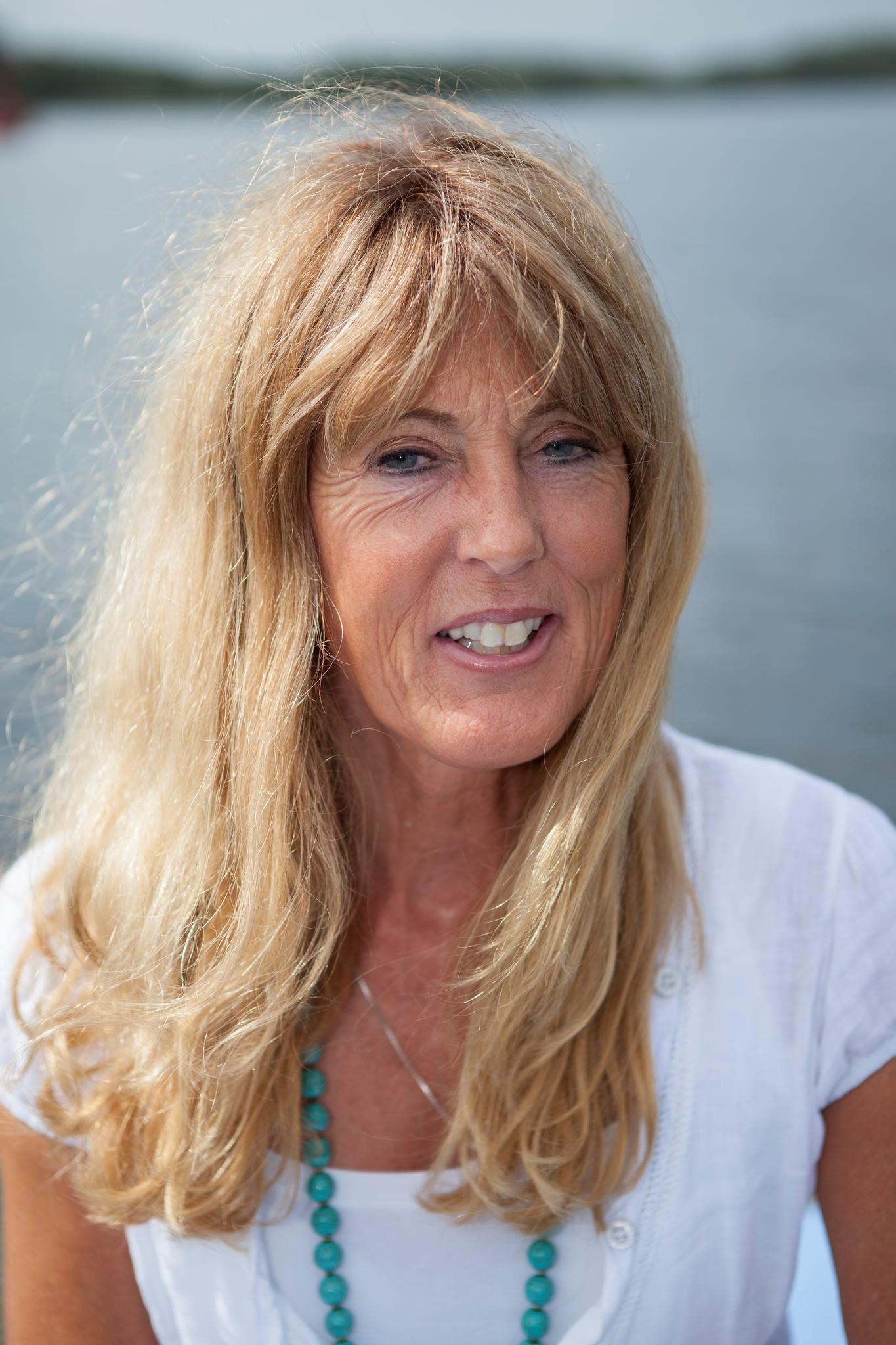 The virtue yoga class about courage, as described in Patty's book, begins with a three-step meditation:
1) Feel what you are afraid of. What are your fears ?
2) What would it be like if you were not afraid? To live without fear?
3) Show your gratitude.
Then we do various yoga postures: camel ride, seated angle pose, forward bending to plow pose, frog pose, lotus flower, stretching of the torso, camel and child position, heart opener (partner exercise), crane, warrior II, warrior I, tree pose, candle and plow, headstand and crocodile.
The class is finished with a meditation, an affirmation and a question to reflect on.
Would you like to know more about this?
Would you like to know more about virtue yoga, the virtue yoga classes or about Patty? Then check her websites and books below:
https://www.dolfijnwellness.nl/
Never again miss anything from our yoga blog?
Do you want to implement more yoga lifestyle habits, step by step? To become more relax and create & enjoy your ideal life by heart? To live according to your intention? Your pursuit of happiness? It is our goal to help you with this. TEMPORARILY you will then also receive the e-book Relax Into Action completely for free (!), full of recommendations to make you feel even more energetic with a yoga lifestyle.
SIGN UP FOR OUR NEWSLETTER and never again miss any of our yoga blogs again.