Do you find it difficult to start meditating, even if you would like to? Or do your thoughts usually wander away so much that you don't try it anymore? Perhaps this metta and chakra meditation can then help you.
You will receive benefits anyway... even if thoughts come up
It is so easy to make meditating so much more difficult that it is. Probably the most difficult part of it is creating the habit, the discipline. But for meditating itself, the only thing you have to do is to follow your breath. It is about the process and it is very normal if your thoughts wander away. Of course, this will improve the more you meditate: it's a practice. It is also completely normal if emotions come up, which is energy in motion. It's all okay. And independently of what happens, the practice of meditating itself gives you the benefits.
Easy start by creating some structure
However, it can help to create some structure in your meditation. What has helped me very well (and I am using this method already for many years) is starting my meditation with a metta meditation. Followed by a chakra meditation. Finally, I focus on enjoying my breath and connecting to love and light for the rest of my mediation.
If it is physically possible, I advise you to sit relaxed but straight up during your meditation.
Metta meditation
In a metta meditation you cultivate thoughts or intentions of benevolence and kindness. This sounds more complicated than it is. You can already do this by saying a few phrases. This is something you can do mentally, which I usually prefer. But if you like to say it out loud, it's something that can work very powerfully.
It could feel nice to take your time by using a whole breath (inhale and exhale) per phrases. While you are sitting straight up, you could use the following phrases:
May I be safe
May I be healthy
May I be happy
May I be able to live with ease
May you be safe
May you be healthy
May you be happy
May you be able to live with ease
May all beings be safe
May all beings be healthy
May all beings be happy
May all beings be able to live with ease
As you can see, the focus of this meditation is first on yourself. This helps to create mental space. From that space it is easier to focus your compassion towards others. Of course, you can thereby focus on the people that already have a special place in your heart. However, I invite you to also practice to send friendly intentions towards persons who you have a difficult relationship with or challenge you somehow. Try how that makes you feel.
Chakra meditation
Without discussing the chakras itself, you can use them perfectly in your meditation. Namely by scanning your body with the help of the chakras, which also helps to increase your awareness.
Start with focusing on your first chakra: your root chakra with the color red. From there, slowly move up your awareness, chakra by chakra. For example, by using at least one breath cycle (inhale and exhale) per chakra, bringing your attention to the corresponding area in your body and thinking or visualizing the corresponding color. Maybe you will even feel what is going on energetically around your chakras.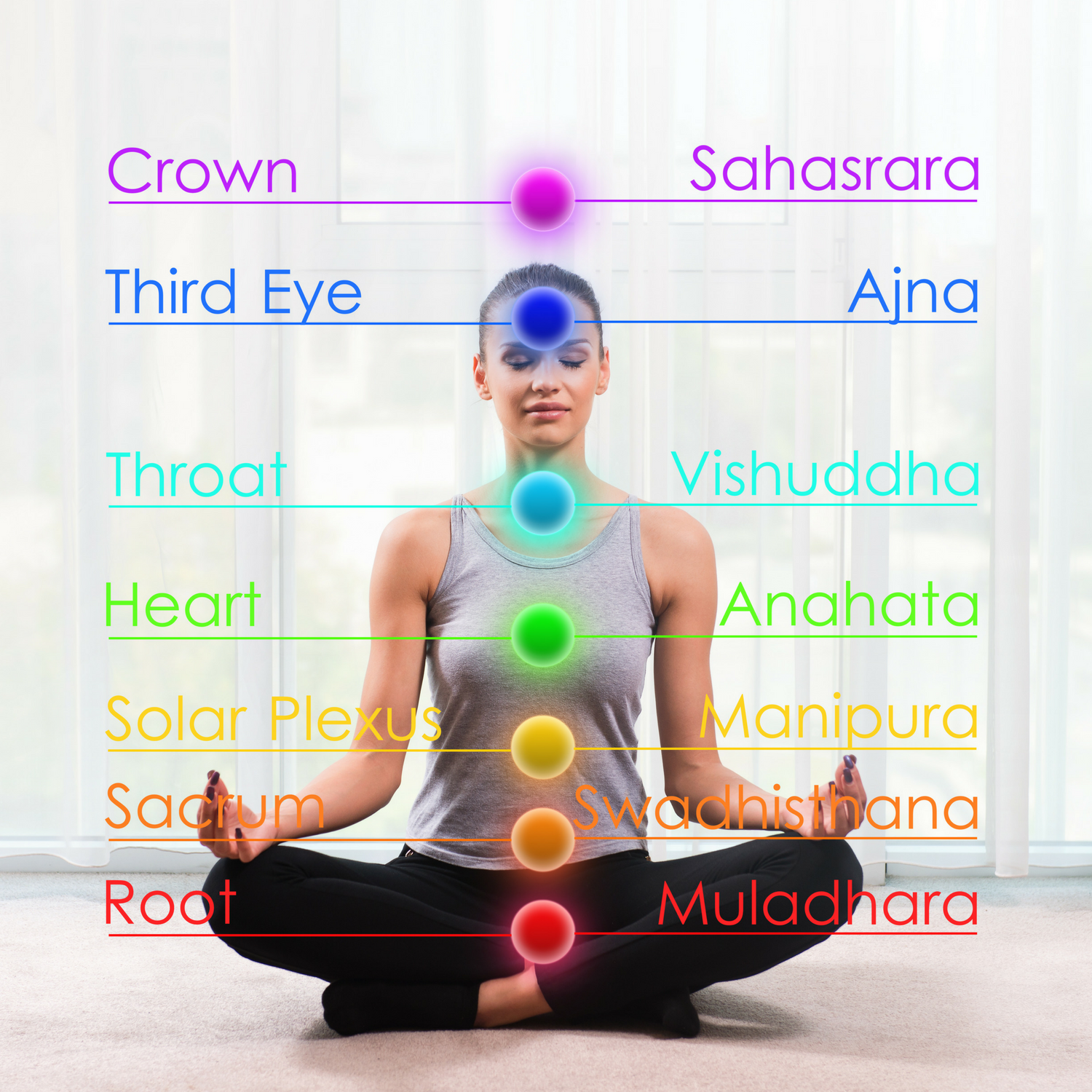 After you reach your crown chakra, you can go back the same way. Chakra by chakra. After you come back at your 1st chakra, you can bring your attention to your upper chakras for the rest of your meditation. For example by your third eye or with your crown chakra.
Just keep following your breath. Enjoy your breath! The more you enjoy your breath, the easier it is to connect with the love and light within you. You might even experience a moment of bliss and calmness.
Enjoy your Habits © today with love and light!
Aimée Kuntz
PS. A small reminder: meditation is a practice. However you feel during your meditation, it is normal, okay and it is the process of meditating that helps you.
Yoga Outfit
Aimée Kuntz from YogaHabits is wearing here the K-DEER Pop Dot Legging, Dragonfly Lucy bra top and a white yoga top by Onzie Flow.
Never ever again miss anything from our yoga blog?
Do you want to implement more yoga lifestyle habits, step by step? To become more relax and create & enjoy your ideal life by heart? To live according to your intention? Your pursuit of happiness? It is our goal to help you with this. 
SIGN UP FOR OUR NEWSLETTER and never again miss any of our yoga blogs again.