Je beoordeling toevoegen
Nikita Fitness Shorts - Black
Nikita Fitness Shorts - Black
Artikelcode
0701013 Dragonfly Nikita Shorts Black M
Binnen 1 à 2 werkdagen verzonden
Dragonfly's Nikita short is een flatterende korte yoga short. De plooitjes aan de zijkanten geven deze short een elegante look en laten je benen langer lijken. Lees meer
Beschrijving
Dragonfly Nikita Yoga Shorts - Black
De Dragonfly's Nikita fitness short is een elegante yoga short. Perfect voor hot yoga. 

Het flatterend model is kort en toch bedekt het je billen mooi. De plooitjes aan de zijkanten geven deze short een elegante look en laten je benen langer lijken. Typisch een design waar goed over na is gedacht. Met klein Dragonfly logo geborduurd op de voorkant om het perfecte design te onderstrepen. 


Zoals kenmerkend voor Dragonfly heeft de Nikita shorts nergens onnodige naadjes en geen tailleband waardoor deze short nergens knelt. De shorts sluiten mooi aan en blijven perfect zitten zelfs tijdens de meest intensieve workouts en in welke yogahouding je ook buigt of twist. 
Het zachte Dragonfly materiaal maakt deze Nikita shorts perfect voor hot yoga. Het high-tech materiaal voert zweet perfect af, droogt snel en beweegt perfect met al jouw bewegingen mee. 
In Black is de Nikita Shorts een basic item met in een elegante stijl die je lichaam mooi laat uitkomen die eindeloos is te combineren. Mix & match tussen onze merken en diverse kleuren en creëer jouw favoriete look.
| | | | | | |
| --- | --- | --- | --- | --- | --- |
| Dragonfly Dames | XS | S | M | L | XL |
| Maat Nederland | XXS | XS | S | M | L |
| Maat Frankrijk | 32-34 | 36 | 38 | 40 | 42-44 |
| Maat Verenigd Koninkrijk | 4-6 | 8 | 10 | 12 | 14-16 |
| Maat Verenigde Staten | 1-2 | 4 | 6 | 10 | 12-14 |
| Heupen in cm | 76-84 | 84-90 | 90-96 | 96-102 | 102+ |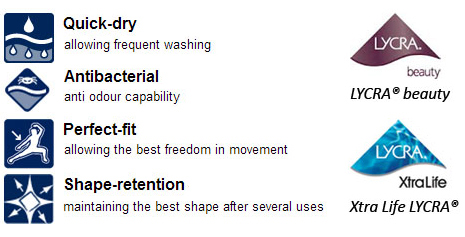 Kenmerken
Elegante yoga short 
Perfect voor hot yoga
Materiaal voelt als een tweede huid
Perfecte pasvorm voor maximale bewegingsvrijheid
Vochtafvoerend en snel drogend
Anti-bacterieel (voorkomt geurtjes)
Vormvast (blijft mooi in model zelfs bij frequent wassen)
Gemaakt in Europa
  
Details
Valt klein. Kies een maat groter dan je normale maat. Zie maatadvies
4-way stretch met hoog percentage lycra
High-tech materiaal: 80% polyamide, 20% elastaan
Hand- of machinewas (koud). Zie wasvoorschriften 
Waarom wij de Dragonfly Brand yoga shorts geweldig vinden
Het materiaal van Dragonfly voelt zo heerlijk zacht aan op de huid en kan voert vocht perfect af. De Dragonfly yogakleding is ontworpen voor hot yogastijlen, die nou eenmaal meer vragen van yogakleding. Beweegt perfect met je mee in alle yogahoudingen. Bovendien wordt Dragonfly gemaakt in Europa, waardoor Dragonfly goed in staat is om te zorgen dat deze yogakleding in goede arbeidsomstandigheden wordt gemaakt.
0
sterren op basis van
0
beoordelingen