7/8 Leggings (Sneaker length)
The sneaker length yoga leggings by K-DEER are very popular worldwide. Kristine Deer has thought of everything. From great designs, the most flattering fit, available in XS to 4XL, supporting charities eco-friendly fabric and made in good working conditio
7/8 Leggings (Sneaker length)
The yoga leggings by K-DEER are very popular worldwide. Kristine Deer has thought of everything. From great designs, the most flattering fit, available in XS to 4XL, supporting charities eco-friendly fabric and made in good working conditions. Maybe you have already seen the famous stripe leggings at social media.
Kristine Deer, the designer and founder of K-DEER, has the desire to share those feelings of confidence, comfort and femininity with as many other women as possible. And that is reflected in these beautiful yoga leggings.
K-DEER also gives back to the community. Not only because of the high quality of their beautiful products. The fabric is produced in the U.S.A. under strict application of eco-friendly guidelines. They also show their authenticity and ethical (yoga) values in their Stripe leggings, which they use to generate awareness and generate funds for charities and non-profit organizations. There is actually a story behind each of the Stripe yoga leggings.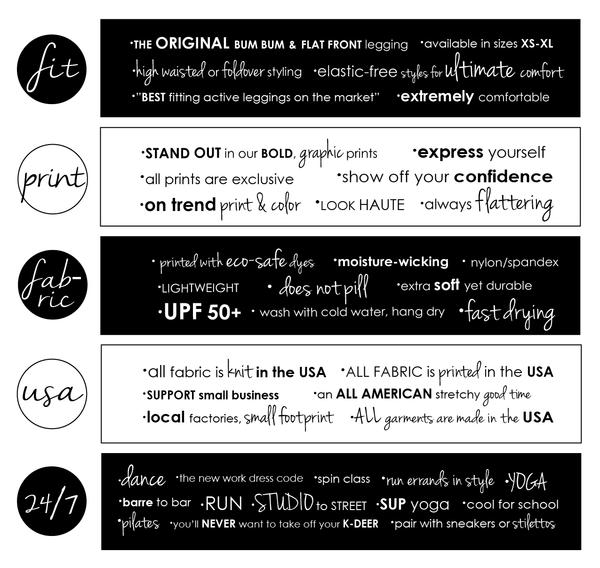 Features
Sneaker length: 64 cm inseam can stretch up to 71 cm
4-way stretch
High waisted for a flattering, no muffin top fit
The K-DEER original flat front seam is a superior, engineered design that avoids uncomfortable female fit issues: no camel toe
No outside leg seam, for a smooth, chafe-free wearing experience
Single layer, unlined for a 'second skin' experience
Lightweight, luxuriously soft feel
High performance moisture wicking, fast drying technology
UPF 50+ protection
High-tech fabric: 74% nylon / 26% spandex
Made for sweaty yoga classes
Made in New Jersey & New York City in the U.S.A. in good work conditions
Print process under strict eco-friendly guidelines
Once you have tried a K-DEER, you will experience that this is really another category in yoga leggings.